Here at Clockpunk Studios, we pride ourselves on being a client-focused design studio. That means we're always thinking about and considering your rights as a client. We're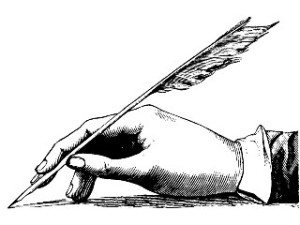 not talking about "legalese" in a contract (although we endeavor to have as little of that as possible, designing our agreements to make sense to layperson and lawyer alike); we're talking about your personal agency to stay or go—to be the captain of your own ship, if in this case the ship was your website—and to be certain you'll love the site we design when you enter into an agreement with us.
While this article shouldn't be taken as what you'll see when you receive our contract, we'd like you, our readers, potential clients, and current clients alike to know our philosophy as regards your rights as a client when you work with us. After spending some time browsing our portfolio, go ahead and read this, and see if we seem like the kind of folks you'd like to work with!
The Clockpunk Studios Bill of Rights
(Subject to Amendment)
As our client, you have the right to control your own site content.
We're a design studio. We build websites for individuals and businesses looking to increase their web presence. We use content management tools like WordPress accented with tools like Search Engine Optimization and plugins that enhance your content-producing experience. But the content is up to you! Once we build the site—with you as a person, and your specific needs in mind—you control the content. We build easy-to-use sites so you'll feel empowered and comfortable when you're working in the back end of your site, and even more than that, when we're done with your site, we'll walk you through how to use it. We believe in putting the power in our clients' hands.
Addendum One: If you'd like us to update your content, we will! We offer ghost blogging services if you'd like someone to produce regular, high quality, unique content to keep your site high in the search engine rankings.
Addendum Two: We believe in making sure you can use your site, but if you have difficulties, we'll always be there to help.
You have the right to a design studio that won't disappear after the site goes live.
Unlike some studios, Clockpunk Studios will be there for you after your site goes live. You need never worry we'll disappear after designing your site—we believe in being there for our clients.
Addendum One: If you'd like extra peace of mind, check out our Clockpunk Studios Care Package! It's a steal for what you get.
You have the right to the site you want.
When you hire Clockpunk Studios, we take the time to deliver the site of your dreams. We do intake interviews and consult with our clients every step of the way to make sure when you get that email saying your dev site is ready to look at, you'll shed a tear of joy. And if by chance you're only 85% ready to shed a tear of joy, we'll work with you to make sure the final project produces that sensation when all is said and done.
Addendum One: You have the right to the site you want… but we're going to advise you if we believe your wants might end up being contrary to the needs of your readers or customers. When you hire Clockpunk Studios, we consider the interests of your target audience as well as your desires. We always try to find a balance between what you want and who your website is for.
You have the right to take your business elsewhere.
We're never happy to hear that things aren't working out between us and a client, but if for some reason we need to part ways, we won't hold you hostage. We're confident in our skills, but we also know that circumstances change, and certain companies are a better fit with certain clients. That's why, for example, when we register your hosting and domain names, we help you with that process rather than doing it ourselves. That way, you're not tied to our apron strings for all time. You have the option to go elsewhere with no worries that somewhere along the line you'll find out you have to come back to us.
***
While the above doesn't constitute all your rights or our complete client care philosophy, take the above as a sample of how you can expect to be treated when you sign up with Clockpunk Studios. If you like the way we think, contact us today! We'd love to design your new website for you.