If the Internet is a highway, your website is your billboard.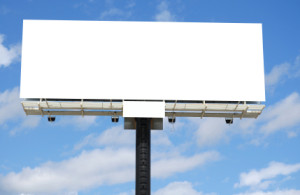 Most of us have been driving somewhere on a road trip and seen billboards that look… well, less like they're advertising Crazy Bob's Discount Used Furniture ("Deals So Crazy… They're Crazy!") and more like they're luring the unwary to some sort of House of 1000 Corpses situation. You know what we mean. The billboard itself might be rusted, the sign a bit frayed around the edges or peeling off in places… the design is outdated, to say the least. When you compare it to other billboards—the fancy ones that are digital, and scroll through several images, or at least attractively designed and maintained—it seems like Crazy Bob maybe needs a bit of a makeover.
For small business-owners looking to increase their Internet presence, it's not just about the billboard. It's also about what's on the billboard. You can spend your of money on the most glorious website in the world—which we'd be happy to design for you, of course—but if you don't know what to put on it, you might end up unhappy with the end result.
Here at Clockpunk Studios, we're very aware that being a savvy business-owner doesn't always mean being a great writer. It can be an overwhelming task to try and translate everything you know about yourself and your business into compelling prose. Unfortunately, that's a must in this day and age. People want to know who you are—what you're about—what you can do for them, and they want to learn about you in easy-to-digest bits of information.
You have a lot to offer your clients, but sometimes it's difficult to see the forest for the trees, so to speak—anticipating what prospective and current clients will want to know when they come to your new, awesome website, as well as how to convey that information with a call to action that will result in business for you.  Clockpunk Studios can help you with that. If you need content developed from scratch by experienced writers, we can do that. We can also use our in-house talent to polish your drafts so they're perfect when your website goes live.
Additionally, the written component of your company's website isn't just the description of your services, or your "About" page. There's also your blog. We're keenly aware that even if a small business-owner is the greatest writer in the world, it can be difficult to find time to blog. We don't have to tell you how hard it is to find time for everything you know you should be doing to promote your business when you own your own company. Regularly updating your website's blog can easily get pushed to the bottom of your to-do list over and over again.
The thing is, original, frequent updates to your website in the form of a blog can be one of the best things a business-owner can do to keep his or her website high in the search-engine rankings. That's why we also offer ghost-blogging services. Tell us what you want us to blog about—a sale or seasonal discount, a new service, a history of your company, whatever—and we'll return pages of beautiful prose custom-tailored to engage your clientele while keeping Google impressed.
Interested in our ghost-blogging and copy-writing services? Contact us today, and we'll get started on helping you improve the written content on your website.