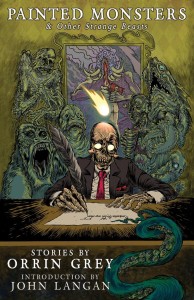 Hey there, Clockpunk Studios readers… Orrin here! I write blog entries (like this one) and handle some of the social media stuff for Clockpunk Studios, including maintaining our Facebook and Twitter accounts. I'm also a freelance writer, and when I'm not composing blog posts, websites, and lengthy rants about monster movies, I write stories about ghosts, monsters, and sometimes the ghosts of monsters, which have appeared in dozens of anthologies, including Ellen Datlow's Best Horror of the Year. In fact, my second collection, Painted Monsters & Other Strange Beasts was just released by Word Horde this month! I got to see actual, physical copies at the H.P. Lovecraft Film Festival in Portland, and people who pre-ordered have been posting pictures of their copies as they arrive, which is always a heady experience.
Painted Monsters is more than just my second collection, it's also a sort of crash-course through the history of horror cinema and the ways that movies have influenced my writing. The first stories in the book are inspired by the German expressionism of silent horror films and the black-and-white chillers of the 30s and 40s, while later entries draw their sustenance from Italian Giallo films, the Roger Corman/Vincent Price Poe adaptations of the 60s, found footage, and beyond. The title of the collection comes from a quote from the great 1968 Peter Bogdanovich film Targets, where Boris Karloff, basically playing himself, says, "My kind of horror is not horror anymore. No one's afraid of a painted monster."
So far the buzz has been pretty positive, with Teleread saying that, "You can cast a knowing eye on the greasepaint and garish theatrics, but don't be surprised if you end up genuinely scared by the final credits. Oh, and entertained." There are definitely worse reviews to get!
For me, one of the best things about being a writer is getting to work with incredibly talented people whose own work I admire and respect. In the case of Painted Monsters that includes an introduction by John Langan and an absolutely jaw-dropping cover by the great Nick Gucker, not to mention my fantastic publisher Ross Lockhart at Word Horde, who is one of the best editors and publishers in the business. But over the years I've been really lucky to work with a lot of phenomenal writers, artists, editors, and publishers, and it's one of the biggest perks of the job.
It's also why working with Clockpunk Studios is such a pleasure. Clockpunk is run by writers, for writers. As a writer himself, Jeremy understands the needs and challenges that come with writing, both when it comes to designing websites, and when it comes to running Clockpunk Studios. And of course I also get to work with one of my favorite contemporary authors, Molly Tanzer, whose recent novel Vermilion was also released by Word Horde, and whose latest novel The Pleasure Merchant is now up for pre-order!
Everyone's trajectory when it comes to writing is different. Some of us write bestselling novels, while others write poetry or short stories that are picked up by small presses. Some write nonfiction or journalism or web content, and some do a little bit of everything. But I can say that, as a writer, working with people who understand what goes into being a writer, the challenges and triumphs that make up this business, goes a long way—and really, that's why I love working for Clockpunk Studios!