Clockpunk Studios is owned and staffed by writers—that's why we're so good at what we do. We know the writer lifestyle intimately, whether it's the long hours you spend typing,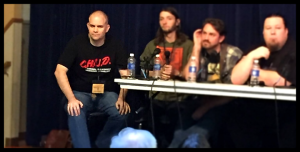 the uncertainty you feel over self-promotion, the ways you use your blog vs. your social media. We even know all about cons.
For example, this past weekend two of our staff, Molly Tanzer and Orrin Grey, were at the H.P. Lovecraft Film Fest in Portland, Oregon. A film festival for the horror aficionado, HPLFF brings in not only the hottest films, short and long, but the hottest artists, be they actors, writers, or artists doing their thing in the genres of Lovecraftiana, Mythos fiction, and cosmic horror. Among the other guests were author Charles Stross, actor Jeffrey Combs (known for his Lovecraftian work in Re-Animator, From Beyond, and Castle Freak), Lovecraft impersonator Leeman Kessler, and Lovecraftian and weird print-maker Liv Rainey-Smith. For the artists, they had things like an art competition, and for the performers, little shows where they got to do their thing—Combs read "The Outsider" in his spectacular fashion, and later, "The Doom that Came to Sarnath," and Kessler's schtick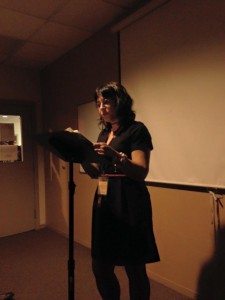 is dressing up as Lovecraft and answering the audience's life questions ("What should I name my new kitten?" "I've been advised by my lawyers to never name another cat.")
As for the authors, there was quite a lot of author programming. Both Orrin and I did readings, him from his new collection, Painted Monsters, and me for my forthcoming second novel, The Pleasure Merchant, which might not be Lovecraftian, but it's definitely horrifying. There were also tons of panels and discussions. There was even a mass signing where fans could come and buy books or get them signed by the writers they love.
With so much programming going on, and running concurrently, no less, it was difficult to know where to go, what to do, who to go see. That's why, universally, every author at the con had used their website to promote their own schedule. I know I did. A quick post containing the information of where I would be took no time at all, and let anyone interested in me know where I could be found. The post made more sense than a social media blast, as those tend to be ephemeral. A post on your website—which of course, if you work with Clockpunk Studios, has all the latest SEO, plus other tools to help your fans find you—will remain as long as you have it there. And that's nice, during a con, when Facebook and Twitter are being flooded with pictures, squee, excitement, hashtags, and other con white noise.
Cons are part of the writer lifestyle, these days, especially if you're in genre. They can be overwhelming and hectic, but they can be great opportunities to meet old fans and get some new ones. So, consider one for next year—or later this year—and consider using your website to promote it!