Hi Clockpunk Studios readers… Molly here.
I've been working for Jeremy for I think about three years now. I'm his Administrative Overlord, which means I handle some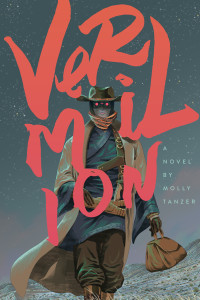 of the more random tasks associated with running a web design studio. I also help with some back-end WordPress stuff, and I (obviously) blog. Oh, and I work for The Big Click, the crime fiction magazine put out by Clockpunk Studios. (Jeremy designed the site for that, isn't it grand? New issue next month, on Scottish crime fiction—keep an eye out for it!)
I'm also a writer. My first book came out in 2012, a collection of short stories/mosaic novel. My second collection came out in 2013. As I wrote and edited both of those, I was working for Jeremy and Clockpunk Studios. I also wrote and revised my debut novel, Vermilion, which just came out a few weeks ago. (Personal aside: Check out that cover! Isn't it amazing??)
As a writer, I have to say that working for Jeremy has been awesome. He's always been supportive of this aspect of my career—heck, he even re-designed my website, so that it actually looked good, had useful features (a store with links, tabbed browsing, that cool image on the side where I can feature my latest publications, actual SEO, and so on). I've written a fair few blogs on this site about how Clockpunk Studios is by writers, for writers—well, that's true. Jeremy's a writer, and I'm a writer, and Orrin, our latest blogger, is also a writer (he has a collection coming out later this year, actually).
All this to say, our perspective on this business is informed by our perspective as writers. We all love what we do, and we love what we can do for others, to help them with their web presence, sell books, get attention for their pet projects, and so on. Our sites are designed to put our clients at ease, so they can blog when they need to, and focus more on the creative parts of their careers… not the nuts and bolts, such as worrying if WordPress's latest security issue means they need to update all their plugins. (The answer, if you have our care package, is no.)
Working for and with Jeremy has also provided me with insight into how to manage my career. In spite of working for a web design company, I'm not the most, ah, tech-savvy person. Jeremy, thank goodness, has helped me learn what I need to know to promote myself and my career more effectively. True story—when I leaked the cover for my novel (again… that cover!) Jeremy pinged me to remind me to set it to Public on Facebook, so that it could be shared. He he understands the way all that stuff works, and the things writers need to do to make their voice heard—and that perspective informs his philosophy when it comes to Clockpunk Studios.
In his role of employer, Jeremy has helped me enormously with my career—and I've seen him do the same for his clients, time and again, over the years. So I guess what I'm saying is,  Clockpunk Studios is the web design studio that understands what you, as a writer, need to succeed.
Oh, and since this post was supposed to be about my novel… Vermilion is a weird western with a bit of Steampunk. It's received stars from Publishers Weekly and Library Journal, and NPR liked it, too. It's about a young Anglo-Chinese woman, Lou Merriwether, who usually can be found settling the restless dead of San Francisco. But when her estranged mother tells her a bunch of the Chinese men and boys who worked on the Transcontinental have gone missing somewhere in Colorado, Lou decides to head to the mountains to see what she can find out. There's adventure, monsters, dead stuff, feelings, friendship, and I dunno, large firearms. I've mentioned here and there that I imagined it being set in the historical past of Big Trouble in Little China. Anyways, if it sounds like your jam, ask for it at your local bookstore or pick up a hard copy on Amazon or B&N.com, or an e-copy from those e-tailers, or from Weightless Books.
Huzzah!