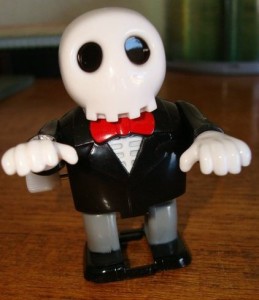 Greetings Clockpunk Studios readers! My name is Orrin Grey, and I'm the latest addition to the Clockpunk team, where my job will be to help turn the crank that brings you (hopefully) scintillating 'blogs from time to time.
So I suppose the first thing I should do is get introductions out of the way. Like most of us here at Clockpunk Studios—and like the majority of our clients—I'm a writer and editor, as well as an enthusiast of film, especially movies about monsters and superheroes, though I'm also partial to three hour epics about people sorting papers and looking at old photographs. Speaking of monsters, I also happen to be a legitimate monster expert (I've got a certificate and everything) so if you have any questions teratological, feel free to direct them my way.
I was born on the night before Halloween, which most likely explains a lot, and when I was a kid we got a channel that showed bad monster movies on Saturday mornings, which almost certainly explains everything else.
As a writer, I'm probably best known for my contributions to anthologies of Lovecraftian stories, but I read and write just about anything with a supernatural bent. I want to be Mike Mignola when I grow up, but since I can't draw my way out of a wet paper sack, I stick to writing about monsters and ghosts (and sometimes the ghosts of monsters). My first collection, Never Bet the Devil & Other Warnings, came out in 2012, and my second collection, Painted Monsters & Other Strange Beasts, is due out from Word Horde later this year. You may have recently seen my stories in The Children of Old Leech, Jazz Age Cthulhu, or Letters to Lovecraft, and I've got new ones coming soon in Resonator and Giallo Fantastique, to name a few. I've also written licensed work for Privateer Press, the makers of Warmachine and Hordes.
I live in a suburb of Kansas City with my wife and three cats, and many of my stories have been set in and around the area. As of a little over a year ago, I quit my proverbial day job as an IP clerk at a law firm and started freelance writing and editing for a living. What that means is that I produce content for corporate blogs and websites, do SEO work, proofread, and just about anything else that falls under the broad umbrella of "writing and editing" and that someone is willing to pay me for.
If you aren't already tired of hearing about me and somehow want to know more, or if you just want to talk movies or monsters (or better yet monster movies), drop by my website at orringrey.com anytime.