Whether you're writing a short story, novelette, novella, or a novel, making progress on your current work-in-progress feels great. It doesn't matter if you put in a solid hour or a long day, it's rewarding knowing you've moved forward with something creative. That more of something that's in your mind and your heart has been transmogrified via hard work into words.
Some find it satisfying to scroll back through a current story or chapter to see how many words they netted that day. Others just look at the total wordcount and compare it to how long they estimate the finished product will be. Whatever your style, for those who enjoy documenting this process, Clockpunk Studios is excited to announce a new feature for our Clockpunk authors' sites. We're always looking for new ways to improve our clients' websites, and that means thinking
about the ways authors write, and then responding to their unique needs. That's how we came up with the idea for our Progress Tracker, and we're excited to tell you all about it!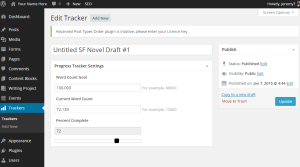 Our new Progress Tracker is a neat function we can easily install in your existing Clockpunk Studios WordPress site. As you can see from the image on the left, you can access this feature from your sidebar, under Trackers. You determine the length of the project, estimating as best you can, and then list your current wordcount to make the bar sail forward and the percent completed rise. It's as easy as that!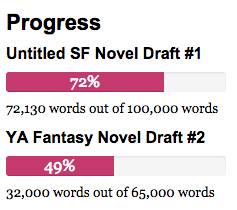 This information, when updated, then appears on your website in a widget. You have the option of titling your projects with their actual titles or with handy reminders if the title needs to remain unreleased. And best of all, when you visit your page, you can see how far you've come!
We should take this moment to mention it's not just you who will see your progress. Your fans will love playing along at home. Readers love knowing where their favorite authors are in a work-in-progress. For example, how much speculation have you seen over when George R.R. Martin's latest will be finished? Other writers, who are more forthcoming, use this curiosity to their advantage. Cherie Priest tweets her wordcount daily, so that fans will know how far along she is in her current novel. Joe Abercrombie and Robert Jackson Bennett both update their readership with progress on their next works, which causes quite a bit of excitement for their readership.
Whether you're interested in keeping an eye on your progress for personal reasons, or you want an easy way to fan the flames of your fans, the Clockpunk Studios Progress Tracker is a fun tool for any writer. If you're interested, contact us and we'll start the process! We can get it installed and running in a very short time. The Progress Tracker will set you back a $150, which includes the installation and customization to your site's design. It's a cool, inexpensive addition to your site that your readers will appreciate, and it may just help keep you motivated in the new year.