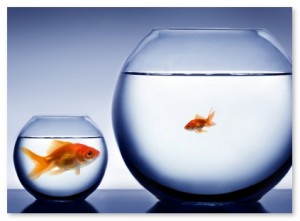 A few decades ago, "big" was in. Big Gulps, Big Box Stores, megachurches, the Notorious B.I.G., supersized meals… there was even a movie, Big. We loved the perceived value of buying "in bulk," and neighborhoods welcomed the arrivals of Super Walmarts and Super Targets. Bigger was almost universally considered to be better.
Nowadays, the pendulum has swung back, and "little" is where it's at. Craft breweries are popping up everywhere. Micro-distilleries make "small batch" artisanal spirits. Family growers dominate wildly popular farmer's markets, or sell to intimate "farm to table" restaurants. Independent films, music, and books are more sought after than ever. Consider this: Abercrombie & Fitch recently made the news for caving to the demands of today's younger fashion-conscious teens. How? By removing their iconic A&F logo from their clothes. Today, individuality and the perception of unique has more cache than in yesteryear, when boldly wearing the logo of big brands was the height of cool.
The good news is that this trend means great things for small businesses. Now that everyone wants to stand out rather than blend in, the independent, distinctive talents of small business owners everywhere are more desirable than ever.
Clockpunk Studios is a small business. We love the intimacy of working one-on-one with our clients, designing sites that suit their taste and their needs, and that say to the world who they are through their aesthetics. That's what we do!
The upside of this is that every client gets our personal attention. We work methodically and carefully to make sure people come away not only satisfied, but thrilled. Don't like our initial mock-up? We take the time to ensure the finished site matches your vision. It's important to us that our clients not "settle" (which is often what happens with large, off-the-rack design studios).
The downside of this is… we're low volume. We can only design so many sites in a month, given the care we lavish on each and every one.
It's never fun to turn down clients. But the simple truth of the matter is that we're not going to tell you we can design your site if we aren't able to give it the time and attention to detail it deserves. We'd rather have you contact one of our competitors than sell you a second-rate website.
It's never too soon to book your website with Clockpunk Studios. We design no more than two to three sites a month, so if you're planning a book launch, or designing a timeline for getting a web presence for your small business, or whatever else, go ahead and let us know now. The sooner you tell us, the sooner we can get to it. We think we're worth the wait, but we know you can't always work on our timeline. That's why it's a great idea for you to contact us as soon as you know you want a new website. That way, we'll be sure to get you the site you want, when you want it!