The Hugo Award is one of the highest accolades given out by the science fiction and fantasy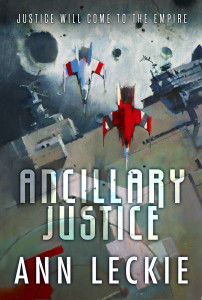 communities. The Hugos are awarded at the annual World Science Fiction Convention, which travels around the globe to a new location each year, and it's quite the event for the SFF community. Eligible works must be written in English and published in the year previous to the award ceremony.
When the Hugos began, in 1953, awards were given in seven categories. Today, fourteen awards are given out, and not all for fiction! While there are of course Best Novel, Best Short Story, and Best Dramatic Presentation awards, there are now also awards for Best Graphic Story and Best Fancast, among others. The award, shaped like a silver rocket ship, has come to be recognized as the symbol of excellence within and outside of the science fiction and fantasy communities. The logo of the Hugo award is often placed on covers of reprinted editions of nominated and award-winning works, as like the Newberry Award or the booker Prize, it's widely known enough to convince the uncertain that the novel, anthology, or magazine they're purchasing is of superior quality.
This year, Clockpunk Studios was tickled when five of our clients were nominated for the Hugo, or were in some way associated with the nomination. Orbit Books had two novels in the Best Novel category, Parasite by Mira Grant, and Ancillary Justice by Ann Leckie. We're also happy to note that Ann Leckie is also a Clockpunk client. Mary Robinette Kowal was nominated for her novelette "The Lady Astronaut of Mars." John Joseph Adams, whose personal site we designed, was nominated in the Best Editor category—and his magazine Lightspeed Magazine, which was one of our projects, was nominated for Best Semiprozine.
Last night, the winners were announced at the banquet. We're thrilled to announce that three Clockpunk clients ended up winning! They were:
Ann Leckie, for Ancillary Justice (Best Novel)
Mary Robinette Kowal, for "The Lady Astronaut of Mars" (Best Novelette)
John Joseph Adams for Lightspeed Magazine (Best Semiprozine)
We're obviously big fans of Lightspeed, and of Leckie and Kowal, as well. We found Ancillary Justice and "The Lady Astronaut of Mars" to be great works of SFF, and we're glad the Hugo voters agreed.
Obviously all credit goes to the winners for their hard, creative work! We're not saying that our websites had anything to do with their wins… but at the same time, it couldn't hurt to get yourself a kick-ass website from Clockpunk Studios. After all, John Joseph Adams graciously thanked us in his acceptance speech, so clearly he feels as though our clean, efficient design, organized information presentation, and toolkits for magazine publishing helped Lightspeed to greatness…