Here at Clockpunk Studios, we believe in the power of WordPress.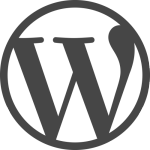 Most people know WordPress because of its reputation as a versatile and user-friendly blogging tool. Those who use WordPress prize its clean, attractive designs, security features, sensitive spam trap, and simple-to-use back-end, as well its ability to control commenting. WordPress also seamlessly integrates videos, images, and other multimedia. Not only that, WordPress users can switch back and forth between HTML and visual by toggling between tabs, enabling bloggers to insert code where they wish, but italicize, bold, or quote with the simple click of a button. And it easily collates posts into categories, on top of giving users the ability to tag posts as they wish.
But what authors and small business owners don't always know is that WordPress sites can be so much more than blogs these days. Whole websites run on WordPress! Well beyond its blogging features, WordPress has a lot to offer businesses of all shapes and sizes, from the self-employed author to the small business to the multinational corporation.
In this day and age, websites are crucial marketing tools for everyone. But when you're not a huge company like Coca Cola, The New York Times, and Sony (whose sites all run on WordPress!), with "tech people" doing all your back-end work for you, you want something that's easy to use, understandable, and secure. Well, WordPress is ideal when it comes to all of those things! That's why we here at Clockpunk Studios build WordPress sites. Yes, even though WordPress is free to download, it packs one heck of a punch. That's why authors like J.A. Pitts and Mary Robinette Kowal have WordPress sites, as do small companies like Masque Books and Wild Things Pet Services, magazines like Nightmare Magazine and Lightspeed, and even the large book publisher Orbit Books.
WordPress sites do a lot, and we here at Clockpunk Studios can make them look good while multitasking. Scrolling high-rez images that won't crash your site visitors' internet or slow down their browsing? No problem for us! A store where buyers can purchase your business' products, while selecting shipping options? Also easy for a ground-up site designer like Clockpunk Studios to manage. What if you want a front page with tantalizing, customized snippets of articles that will intrigue your future readers or customers to "click through" to more options? WordPress, in our hands, can do that for you. Search Engine Optimization so that people can find you—and find you first? We know all about that. WordPress also handles ads with ease, and we can put in links that will let you link to all your platforms, like social media outlets such as Facebook, Twitter, Tumblr. And we can prominently feature links to any galleries featuring your work, or outside sites where your adoring fans can buy your books.
If all the above sounds to good to be true from a free download like WordPress, rest assured… it isn't. But that's not to say everything listed above comes free. Just because the software doesn't cost you anything, that doesn't mean launching your new website will cost you nothing. It's often said you get what you pay for, so in the second part of this series, we'll discuss how to make sure you get the most bang for your buck when it comes to your new, awesome website!
Intrigued? Contact us today, and we'll get talking about your new WordPress site!